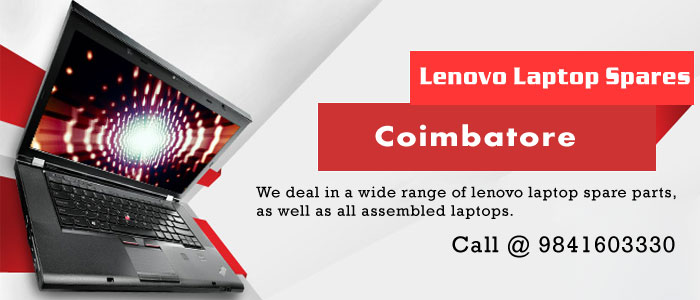 Lenovo Laptop Spares
If you are looking for a replacement laptop motherboard, laptop keyboard, laptop screen, laptop battery, laptop DC Power jack for all model lenovo laptops like lenovo ideapad, lenovo thinkpad, lenovo yoga, lenovo z series, lenovo y series, lenovo w series laptops, Our Lenovo laptop service center in coimbatore offers the highest quality lenovo laptop replacement products
We offer high-quality laptop spares of all types of lenovo laptops like motherboard, LCD screen, keyboard, cooling fan, ram, hdd, DVD writer, adapter, battery, touchpad and many others. Our team of experts ensure that you get the required spares within the budget specified with 100% customer satisfaction. We deal in a wide range of genuine lenovo laptop spare parts for replacement and repair services.
If you require quality lenovo laptop spare parts or accessories best price in coimbatore call our expert lenovo laptop service center in rs puram, coimbatore @ +91 9710381166, +91 9710391166 | Lenovo Laptop Service Center in Peelamedu @ +91 0422 2594434/24 | +91 9094335544.
If you are experiencing problems with your lenovo laptop, need laptop spare parts, laptop components or laptop accessories, laptop service center in coimbatore deal in carry standard OEM replacement and repair warranty. We offer laptops spares for all model lenovo laptops at reasonable price.